January 13, 2012
7:30 pm
January 14, 2012
8:00 pm
January 15, 2012
3:00 pm
7:30 pm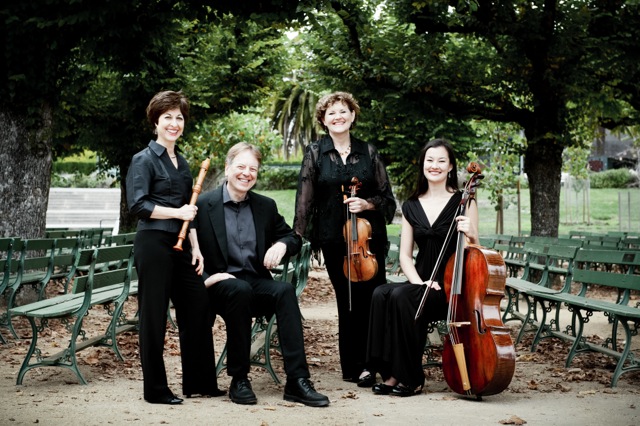 San Francisco Bay Area based early music ensemble Musica Pacifica, now celebrating their 20th season, is pleased to present a varied and extensive "home season" of performances in San Francisco, Berkeley, Palo Alto, Petaluma, Davis, and Sacramento.
Described by the press as "some of the finest baroque musicians in America" (American Record Guide) and "among the best in the world" (Alte Musik Aktuell), Musica Pacifica performs 17th- and 18th-century music on varying combinations of recorder, violin, cello/gamba, harpsichord, and percussion. Their very recent Dancing in the Isles CD has continued to get rave reviews from music journals all over the world, including American Record Guide; the German magazine Concerto; Early Music Today from the UK, and the prestigious Gramophone from the UK, who called it "one of the zestiest recordings of recent vintage to present works that once had them dancing and listening with joy." And the online journal, Musica dei Donum said: The playing is first-rate: full of bounce, stylish, and technically immaculate."
Tickets for all events below (unless otherwise noted) are $20 general admission, $15 for seniors, members of SF Early Music Society, Early Music America, and ARS; and $10 for students. Tickets are available through www.brownpapertickets.com or at the door.
PROGRAM ONE, entitled "La Bizzarria: Music of 17th century Italy," features music by Turini, Frescobaldi, Falconieri, Cazzati, Marini, Castello, Vitali, and others. Performances will be held:
Friday, January 13th , 7:30pm at the Petaluma Historical Museum
20 4th Street Petaluma, CA
Saturday, January 14th, 8pm at Trinity Chapel in Berkeley
2320 Dana St. (at Durant), Berkeley
Sunday January 15th , 3 pm at the Crocker Art Museum*, Sacramento
(in conjunction with the exhibit "Florence and the Baroque")
216 O Street, Sacramento
*Tickets are $6 for CAM Members, $12 for Nonmembers, $8 for Students
Sunday, January 15th , 7:30 pm at the Davis Community Church, Davis
412 C St, Davis
No advance ticket sales. $10 suggested donation at the door.
PROGRAM TWO, entitled "Dancing in the Isles, The Sequel!" is a further selection of Baroque and traditional music from England, Scotland, and Ireland to complement the music from their original "Isles" CD. Performances will be held:
Thursday, February 16th , 7:30 pm at Ashkenaz*, Berkeley
1317 San Pablo Ave., Berkeley
*Tickets ($10 general admission) available after January 15, 2012 at www.ashkenaz.com
Saturday, February 18th , 8pm at First Lutheran Church, Palo Alto
600 Homer Ave., Palo Alto
Sunday, February 19th , 4 pm at Noe Valley Chamber Music*, San Francisco
Most Holy Innocents Episcopal Church, 455 Fair Oaks Street
(between 25th and 26th Streets), San Francisco
*Tickets are $20 General Admission, $15 for seniors and students
Members of Musica Pacifica (Judith Linsenberg, recorder; Elizabeth Blumenstock, baroque violin; Charles Sherman, harpsichord; and Shirley Hunt, baroque 'cello, viola da gamba) perform with Philharmonia Baroque and American Bach Soloists, and also appear with prominent early music ensembles nationally and abroad. They have performed on such prestigious concert series as The Frick Collection and Music Before 1800 (NY), the Getty Museum (LA), Tage Alter Musik (Regensburg), Cleveland Art Museum, and the Berkeley Early Music Festival (3 times), among others. They have performed at festivals in Germany and Austria and have been featured on German National radio as well as on National Public Radio's "Performance Today" and "Harmonia." Musica Pacifica's eight CD releases on the Virgin Classics, Dorian, and Solimar labels have won national and international awards, including Chamber Music America/WQXR's 2003 Record Award, being featured on Minnesota Public Radio, and being chosen as "CD of the Month" by the early music journal Alte Musik Aktuell (Regensburg). Full bios of all musicians are at www.musicapacifica.org.
PLEASE NOTE: Harpischordist Katherine Heater will perform in place of Charles Sherman at January's concerts.